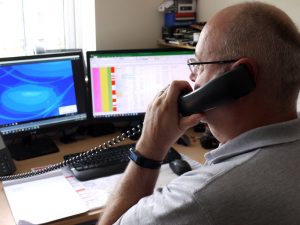 CSS Digital is pleased to offer tailor made Business Class phone systems based on the increasingly popular VoIP (Voice over Internet Protocol) technology.
These VoIP systems utilise your existing network cabling and interface with your existing telephone lines. They also have the capability to use your broadband connection to make very cheap calls over the internet. As many of our clients have already discovered, this can save your business money as soon as it is installed.
Our VoIP systems give you all the benefits of a standard business phone system, including call hold and transfer, ring groups, and include features that are often "extras" on other systems, such as, selectable music on hold, voice-mail, Auto Attendant (IVR) and forwarding / diverts to external numbers.
Additionally, because the VoIP Systems can connect to the internet, we can also offer remote extensions, ideal for home workers, or even being able to answer the office phones when you can't get to work. Also, we can configure Multi-Branch Connectivity, giving free calls and free transfers between all extensions in all branches.
CSS VoIP – Business Class Internet Telephony

Part of the long established CSS Digital IT Support Company, CSS VoIP have formed to provide fully featured VoIP Office Telephone Systems, based around the new VoIP (Voice over Internet Protocol) technology. Unlike Skype, this is a Business Class Phone System that uses both the Internet and existing phone lines.


The Benefits

Business Class Digital Phone System with existing Telephone Line integration
Fully Featured software control of all Phone Functions
Home Worker and Multi Branch Extensions functionality
Call on Hold, Call Transfer – Blind and Announced, Selectable Music on Hold etc
Selectable Ring Patterns, Group , Hunt, Divert to Voicemail on No Answer, etc
Voice Mail for all Extensions and Call Recording Facility if required
Day / Night Mode and Selectable Time Schedules for Answer Modes
New Free Regional Telephone Number**** with each VoIP Account
PC Screen Display of Call and Extension Status – available as a free add-on
Free Standing, Wall Mount or Rack mount Systems Available
Remote Support and Reprogramming without site visit.